Why Choose Us?
Dr. Roeder has more than 4,000 hours and 30 years of experience in multiple advanced dental specialties. He has a team of dental professionals that all share the same goal: to make sure you are comfortable during your visit.
He has been so successful at what he does that he has brought on Dr. Kulp so more patients like you can have the dream dental experience. Our dental office has a four-star Yelp rating, 4.4 stars on Facebook and 4.9 stars on Google. That is a lot of stars!
Dr. Roeder opened Dream Dentistry & Sleep Care in 2000 because he wanted to offer families in Quakertown and the surrounding areas quality general dentistry and to be their resource for specialty services, too, like cosmetic dentistry, restorative dentistry and full-mouth reconstruction.
And he has succeeded. His dream is now a reality.
Your Dream Dental Office for Dental Anxiety
If you have dental anxiety, we can help you overcome your fear of the dentist with sedation dentistry. Sedation will help you remain relaxed during your visit and soften or erase your memories of your treatment so that you will feel less anxious about your next procedure.
Our compassionate team also makes you feel comfortable by greeting you by name from your very first visit, queueing up your favorite movie or show on Netflix, and sending you home with a milkshake.
Exclusive Full-Mouth Reconstruction & Restorative Dentistry Procedures
We are on the short list of dental offices in the state of Pennsylvania that can treat your gum recession with the minimally invasive Chao Pinhole® Surgical Technique. Dr. Roeder has completed the training and invested in the tools, so you do not have to endure gum grafting, a slow-to-heal donor site, or any cutting or sutures to get your gums back where they belong.
Dr. Roeder has also partnered with Glidewell Laboratories to create a brand-new alternative to All-on-4® implants, exclusively available at our office. Dr. Roeder's custom procedure costs thousands of dollars less and involves a removable zirconia bridge that allows for increased dental hygiene and gum health.
Advanced Technology for Faster, Less Invasive Treatment
At our practice, we use the latest technology so your treatment is fast and accurate. Our dental office uses digital X-rays, a digital cavity scanner, an intraoral camera, soft-tissue lasers, digital tooth mapping for root canal treatments, and a sleep pharyngometer for better treating obstructive sleep apnea.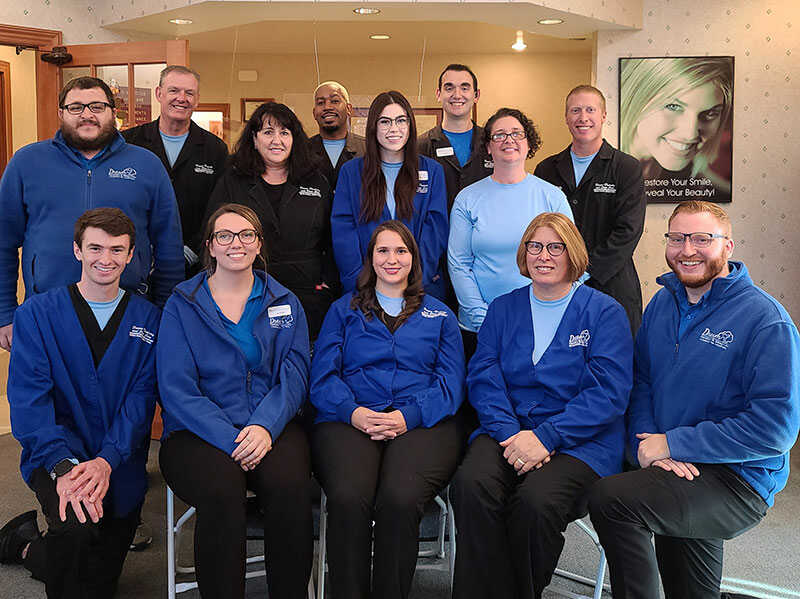 Fun, Festive Family Dental Office
We are always working on ways to bring more joy into your dental experience. When you arrive, check out our lobby TVs for the latest news around the country and special offers for our practice. During your appointment, get away from it all with a favorite song or with your top Netflix pick — there are TVs on the ceiling at every patient station!
Our compassionate team also makes you feel comfortable by greeting you by name from your very first visit, queueing up your favorite movie or show on Netflix, and sending you home with a milkshake.
We are also the only dental office where you can get Dr. Roeder's custom-blend local anesthesia that does not sting at all, making needles nothing to fear.
Learn more about our office and team here:
Our Core Values
FUNDAMENTAL #1
Our patients come first.
Everything we do must be in the best interest of our patients. As a dental practice, we value transparency and integrity, making us a team and office patients can trust.
FUNDAMENTAL #2
Leave ego out of the equation.
The betterment of our team and the function of our office is paramount. Focusing on personal agendas undermines the spirit of cooperation we want to cultivate.
FUNDAMENTAL #3
Take pride in what you do.
Let every action you take reflex your personal belief in your work. Achieve excellence through quality care and thorough service.
FUNDAMENTAL #4
Don't rush. Take your time.
Doing things correctly the first time is more important than crossing items off a check list.
FUNDAMENTAL #5
Actively try to create solutions where everyone wins.
These solutions benefit all parties and cultivate long-lasting satisfaction. Try to see from different perspectives.
FUNDAMENTAL #6
Don't play the blame game.
Mistakes happen. When they do, it is important to remember that improvement can result from these instances. Try to focus on answering these questions: Of our options, how can we best fix the issue? What is there to learn from this experience? How can we prevent this from repeating and utilize what we learned when creating new policies and behaviors?
FUNDAMENTAL #7
Maintain long-term relationships by making informed and conscientious decisions.
We want success and longevity for our patience. Every choice must be made with this end in mind.
FUNDAMENTAL #8
Focus on finding solutions rather than dwelling on problems.
Your time and effort are more effective when bent towards creative and enthusiastic problem solving. Don't let problems get you down.
FUNDAMENTAL #9
Assume the best about people.
Treating others with respect and kindness generates a genuine belief and trust in people. Stand by this belief.
FUNDAMENTAL #10
Have fun.
Keeping a lighthearted attitude helps maintain perspective.
Want to learn more about our dental care in Quakertown, Pennsylvania? Call our office at 215-515-6555 today and schedule a visit with our experienced dentists, Dr. Gordon Roeder or Dr. Zachary Kulp.
Hours
| Day | Hours |
| --- | --- |
| Monday | 8:00 a.m. - 3:00 p.m. |
| Tuesday | 8:00 a.m. - 3:00 p.m. |
| Wednesday | 8:00 a.m. - 8:00 p.m. |
| Thursday | 8:00 a.m. - 8:00 p.m. |
| Friday | By Appointment Only |
| Saturday | By Appointment Only |
| Sunday | Closed |
Have questions?